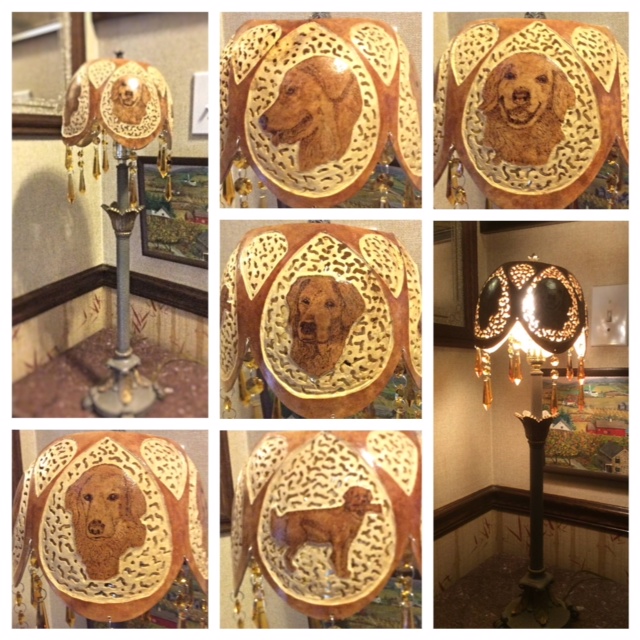 By: Susan Brown
As my former cabin mates can attest, for years I've been saying the knot holes on the walls at Goldstock, remind me of the eyes of a dog. I've felt each pair of eyes had a story to tell; some in need of rescue, others joyful for having been rescued and finally those who are looking down upon us from the Rainbow Bridge.

As corny as this sounds, I told Gale last year that I hold Goldstock responsible for the reason why I started doing what I so love to do these days, and that is the art of pyrography. Pyrography is the use of heat to burn the surface usually on wood, although I've been using dried gourds of late. You see all those dogs' eyes staring down needed to be released by me from out of the wood so others can see what I have seen; all those dogs with stories to tell.

I started out with a cheap wood burning piece of equipment and began learning pyrography by trial and error. I've had no former teaching, just the spirit of the wood bidding to be set free as an artistic endeavor to claim a bit of permanence for others to see. Over the years, I've gained experience and have shared many of my pieces at Goldstock to be auctioned off and sold to earn money for rescues. I don't have the financial means to support rescue as well as I'd like, so developed this method to help raise some funding as meager as it might be.

Having shared this with you now, I imagine others may see all those canine eyes staring out at you from the knotty pine of your cabins at Goldstock this year. Remember that those soulful eyes belong to all the canines in need of rescue and step up to do your part in any way that you can; from adoption to fundraising, from fostering to pyrography. We each have a part to share for the love of a Golden, or any other dog for that matter. There are many other breeds that need assistance as well we all know.

If each and everyone of us found what we can do best and enjoy doing it for the sake of the love of our dogs, then perhaps there will be fewer dogs in shelters. But we each need to start somewhere and Goldstock is the best way to do it. We can't let those sad eyes down. It is up to us to do something. Anything, anything at all.

So join the ranks of others who allow Goldstock to prosper based on the merits of their creative talents. Just like Steve with his photography, Nancy with her quilts, Terry with her baking, Lois with her teaching skills, Pam with her organizational talent, Gale Lustig with her big heart and vision for rescue, Geriatrics with their skill for mixology, Laurie and Doug for their CGC and TDI certification capabilities, Gail H. with her grooming skills, Katie, who churns out each years' Candlelight Ceremony booklet, Marie with her negotiation skill with the golf carts, I could go on and on. Not to mention the willingness of all the rescues involved to make Goldstock what it is today. If everyone of us could look for and find a means to suit whatever we have to offer, as a money making opportunity, more money would be raised to help insure that dogs are no longer thrown away like yesterday's trash. Please join the ranks of these highly talented individuals to help insure that no dog is ever left behind.